Going Home: Remembering Long Branch eminent domain activist Anna DeFaria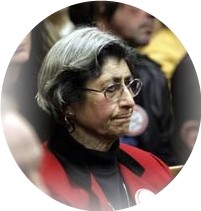 While she waited for the next round in the eminent domain fight against the City of Long Branch, Anna DeFaria, 82, lost her battle with ovarian cancer. Last Wednesday, she died at home.

Home was the modest, oceanfront cottage that DeFaria and her husband, Antone, owned since 1960. Her husband died in 1996, the same year that Long Branch declared its oceanfront in need of redevelopment. As the city blighted and condemned whole neighborhoods under the Local Redevelopment Housing Law to make way for new high rise condominiums along the beachfront, one group of neighbors banded together to fight for their homes on Marine Terrace, Ocean Terrace and Seaview Avenue (MTOTSA). Anna DeFaria was a champion among them.
Yesterday DeFaria's neighbors, who are spokeswomen in their own right, praised her activism. As quoted in Asbury Park Press, Denise Hoagland said, "I think she was a phenomenal woman who had integrity like none I've ever seen."
Lori Vendetti told the Star-Ledger, "Her face is MTOTSA. We're going to keep the fight going for her, as well as for everybody else."
DeFaria was a retired preschool teacher. She walked two miles a day on the boardwalk, went to church, visited the senior center, and tended her vegetable and flower garden. In recent years, she frequented city council meetings and marched in eminent domain rallies. She became a familiar face in the mainstream press, appearing in television clips, magazine and newspaper articles that brought national attention to the Long Branch case. Her advocacy against eminent domain abuse is her legacy:
Where do you go if they take your home away? It was my first home, and my family loved it here…I feel safe and secure here. I thought I would stay here until I died. Atlanticville, (October 13, 2005)

I'll never buy a piece of property by [the] ocean again. How much do you need? A million dollars? You can't buy it, for God's sakes, anymore. And my husband fought for what? Freedom? For liberty? For everybody, or the few selected people that are coming from New York to buy there? CNN, (October 13, 2005)

We thought this was going to be our home forever…Now they want to take it away. It's unfair, it's criminal, it's unconstitutional…They're taking my home away -- not my house. My home. My life. The Boston Globe (February 6, 2006)

We worked very, very hard to have this little house…If they had to build a hospital or a road or something, you know, we wouldn't feel as bad as taking my house, knocking my house down to put a million dollar house on mine. That's what hurts me the most. PBS – NOW (February 10, 2006)

I'm 80 years old. My husband's gone nine years already. The Lord took him. And I have a problem with the eminent domain abuse. I think it's criminal. I think it's unfair, unjust and I don't know where I'm going to go. Fox News, Hannity & Colmes (February 17, 2006)

I can't get anything in Long Branch for three and a quarter [$325,000], let alone an ocean view. Parade Magazine (August 6, 2006)

We thought we'd stay here for the rest of our lives. Now, they think they can come and take what's ours. They can't. We're going to win this. Atlanticville (September 7, 2006)
Read the profile of Anna DeFaria in the report of the N.J. Public Advocate.
Written By:Terry Tan On November 17, 2007 3:56 PM
We can no longer permit, very often, non-elected individuals in government to control our destiny irresponsibly.
They are like normal family-loving oriented people, who go to church and greet you with a friendly smile. Unfortunately, when addicted with power and greed, they can only see their actions as altruistic as their perceptions allow it, oblivious to the suffering they have created.
We need more Anna DeFarias
to effect change for a better world.
May she rest in peace.
Written By:Susette Kelo On November 20, 2007 4:52 PM
How sad is it when an 80 year old woman needs to fight to keep her home, fight from having it taken from her by her own local goverment. Shame on you all, shame on your greed.