Lillian Anzalone, eminent domain defendant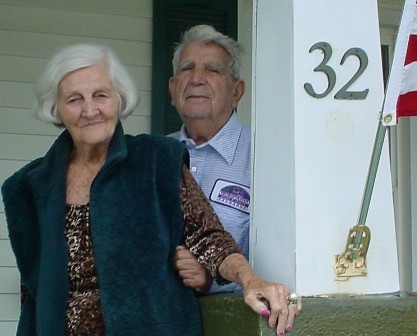 Lillian Anzalone died at home this morning. She was 91. Mrs. Anzalone was born in Newark on February 10, 1917. She was a buyer of women's clothes in New York before she married Louis Anzalone in 1954.
Together, the Anzalones and their son, Thomas, lived at 32 Ocean Terrace, Long Branch.Their house stands at the epicenter of the MTOTSA neighborhood's eminent domain fight. It was the first home the Anzalones bought and the only one they ever owned. Mrs. Anzalone, who suffered from congestive heart failure and other health problems, attended the oral arguments in the appellate division in May. The family was elated when the court reversed the blight determination last month. See the Star Ledger video filmed on August 8.
Mrs. Anzalone is the third elderly home owner who protested, fought and advocated for property rights, but ultimately succumbed to illness before obtaining closure in the Long Branch eminent domain cases. The other MTOTSA neighbors who died were Al Viviano and Anna DeFaria. Mrs. Anzalone will be missed by her husband of 54 years, her son, and all her neighbors, who were united in the battle to keep their homes. The home owners are in the process of petitioning the New Jersey Supreme Court to dismiss the condemnation complaints.
Viewing will take place from 2-4 p.m. and 7-9 p.m. on Friday September 12 at Megaro Memorial Home at 503 Union Avenue, Belleville. A funeral mass will be held Saturday morning, September 13, at St. Lucy's R.C. Church in Newark.