Eminent Domain Electrical Power Grab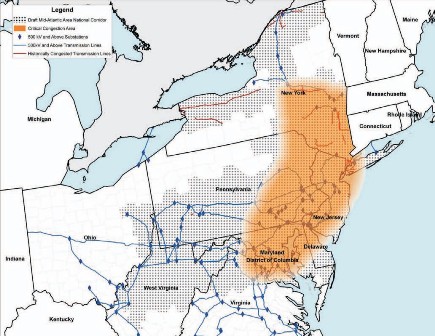 "Our goal is really quite simple: to keep the power flowing to all Americans with sufficient reliability. And so, each draft Corridor was designed to include both areas where significant congestion problems or constraints exist and areas where there is a substantial amount of existing underutilized capacity as well as the potential for development of renewable energy generation – a so-called "source-and-sink" approach. In other words, these Corridors are meant to facilitate the process of connecting places that need relief with places that have the potential to supply more power. And this work cannot happen soon enough." -- Remarks as Prepared for Energy Secretary Samuel Bodman, First Annual Grid Week Conference, Washington, D.C.
Looking at the map above, it's clear that all of New Jersey falls into a "power bottleneck" where the Department of Energy (DOE) claims new electrical lines are critical to support the current grid. And significant portions of Southern California are also part of the "National Interest Electric Transmission Corridor" -- areas the federal government deem stressed. The DOE can use eminent domain for its energy projects according to the Energy Policy Act of 2005. According to a DOE press release:
Within a National Corridor, transmission proposals could potentially be reviewed by the Federal Energy Regulatory Commission (FERC), which would have siting authority supplementing existing state authority. This would mean if an applicant does not receive approval from a State to site a proposed new transmission project within a National Corridor, the FERC may consider whether to issue a permit and to authorize construction. In the event of a FERC siting proceeding, the FERC must conduct a review under the National Environmental Policy Act, which would include analysis of alternative routes for that project, including route realignments necessary to avoid adverse effects on the environment, landowners, and local communities.A federal permit could empower a permit holder to exercise the right of eminent domain to acquire necessary property rights to build a transmission project. That authority could only be exercised if the developer could not acquire the property by negotiation, and even then, the authority would not apply to property owned by the United States or a State, such as national or state parks.
The DOE issued a draft proposal which designated the 21 counties that comprise New Jersey as part of the plan. In addition, the Mid-Atlantic National Corridor, pictured above, consists of Delaware, the District of Columbia, some parts of Ohio, West Virginia, Virginia, Maryland, Pennsylvania, and New York. A public hearing to discuss the Mid-Atlantic Corridor is scheduled for May 23, 2007, in New York City.
Update - May 8, 2007
DOE Announces Additional Public Comment Meetings for Draft National Corridor Designations WASHINGTON, DC – The U.S. Department of Energy (DOE) today announced that it will hold four additional public meetings for the two draft National Interest Electric Transmission Corridors (National Corridors) during the 60-day public comment period, which will close on July 6, 2007. The four additional meetings will be held in June in: Phoenix, Arizona; Las Vegas, Nevada; Pittsburgh, Pennsylvania; and Rochester, New York. Dates and locations will be published in the Federal Register in the coming days. DOE previously announced it would host three public meetings at the following locations: Arlington, Virginia on May 15, 2007; San Diego, California on May 17, 2007; and New York, New York on May 23, 2007.
To stay informed and comment on the plans, go the link at the National Interest Electric Transmission Corridors and Congestion Study.