New Jersey Turnpike Widening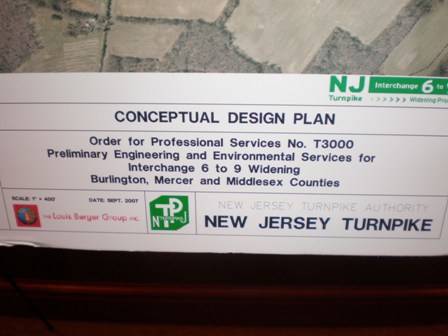 The New Jersey Turnpike is the fifth busiest road in the nation and the proposed widening between exits 6 and 9 will be one of the biggest public works projects ever undertaken in the state. Preliminary plans, displayed at four public hearings last month, call for the six lane highway to be expanded to 12 lanes from Mansfield to Cranbury and for an expansion of toll plazas at exits 7, 7A, 8, and 8A. Eminent domain will be used as required to acquire the necessary land for the widening as well as the toll plaza improvements. More than 100 properties may be affected by the project. Most of the acquistions contemplated in the project will be partial takings. Of the 381 acres to be acquired, the NJTPA anticipates only 10-20 will be total takings.
According to a report in today's Star-Ledger, preliminary engineering and property acquisition was paid for with reallocated funds ($175 million) from a now defunct project, Route 92, that was meant to provide a link between Route 1 and the Turnpike. But the funding for the entire widening project is estimated at $2 billion - so the state needs to find an additional $1.825 billion to make it happen. This will be the costliest widening project in Turnpike history.
The Tri-State Transportation Campaign has expressed reservations about the prioritization of the Turnpike widening in light of the imminent need for bridge repair and current deficit in the state's Transportation Trust Fund. While the options for funding appear limited, In the past, the Turnpike issued bonds to pay for roadway improvements. The debt service on the bonds would be paid from toll revenues. This still seems to be the most likely scenario for funding this project. However, it would require a large increase in tolls for Turnpike riders. The monetization of the Turnpike discussed by the Corzine administration does not provide a vehicle for funding the widening project. Instead, it is a quick fix to state budgetary issues, which may or may not be approved by the Legislature.