Settlement ends eminent domain saga for Long Branch MTOTSA homeowners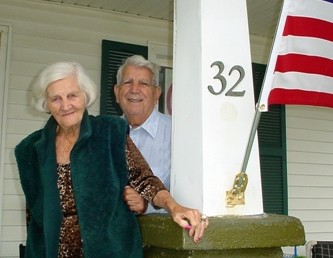 "To the outside world, my home may have been just wood and concrete, but to me, it is my whole existence...a little piece of heaven with my wife..." - Louis Anzalone, Long Branch, N.J.
One year and seven days after his wife, Lillian, quietly slipped away on the porch of their beachfront home, Louis Anzalone, 92, and his neighbors on Marine Terrace, Ocean Terrace, and Seaview Avenue - MTOTSA - in Long Branch, N.J., settled their long-standing eminent domain battle with the city. Today in open court, in Freehold, most of the property owners signed releases, and attorneys for the city, developer, and property owners finalized a consent order, bringing closure to the case. Download the final order.
City of Long Branch v. Anzalone, and its companion cases, were reversed and remanded to the trial court in part on August 7, 2008. Today's settlement, which resulted from lengthy negotiations and mediations with Judge Thomas W. Cavenagh, dismisses the eminent domain complaints against all defendants. In addition, the city of Long Branch and the developer are paying aproximately 60 percent of the legal fees and costs of the defendants. The property owners are now free to continue to live in their homes, or to rebuild in compliance with the amended redevelopment plan. If they choose to rebuild, they can be designated as redevelopers and receive the same tax benefits as the designated developers did for Phase I of the Beachfront North project. This is a big win for the property owners and property rights advocates.
Tonight in a Special Meeting of the Long Branch City Council, resolutions memorializing the settlement agreement are on the agenda. Download the Long Branch Agenda here.
"To the outside world, my home may have been just wood and concrete but to me it is my whole existence…a little piece of heaven with my wife, if you will," said homeowner Louis Anzalone. "All those years we were here, we couldn't see it gone, just because someone else wanted us to leave. My wife had her ultimate wish - to die at home, on the front porch."
"He may be 92, but my father made all the major decisions," said Tom Anzalone. "I respected him. It's his house. He has that World War II fighting ethic, fighting for his rights. He knew what they were doing was wrong. Even my mother said, 'They can't take my house.' He ended up saving his home. He's extremely happy that he can live here for the rest of his life."
A long, protracted case requires property owners to persevere and make sacrifices to protect their rights. Louis Anzalone, at 92, personifies the fighting spirit of all the homeowners in the MTOTSA neighborhood who spent time, money and energy – more than seven years of their lives -- to prevail against the power of eminent domain and keep their beachfront homes.
Related links:
Asbury Park Press, Settlement could come today in Long Branch eminent domain case (Sept. 15., 2009)
Insitutute for Justice, Victory for Homeowners in Long Branch, NJ Eminent Domain Battle (Sept. 15, 2009)